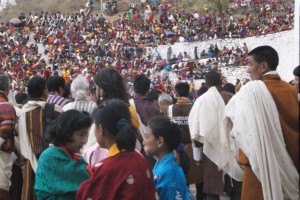 The "Bhutan fair" to be organized in December 2013 in Bangkok is going to boost tourism in Bhutan. This is a result of a successful cultural event last December in Bangkok, organized by the Bhutan embassy. This December, the Tourism Council of Bhutan (TCB) would hold a "Bhutan fair" in the Thai capital.
Small and medium enterprises from Bhutan will get opportunity to showcase their products and sell at the three-day trade fair at the Central World mall, one of Bangkok's popular shopping malls.
Handicrafts Association of Bhutan, Agency for Promotion of Indigenous Crafts, Bhutan Chamber for Commerce and Industry, non government organisations, Institute of 13 Arts and Crafts, ministry of agriculture, SAARC Business Association of Home Based Workers, airlines, hotels, tour operators, a cultural troupe and tourism council of Bhutan are the participants.
TCB's marketing, promotion and operations head, Chhimmy Pem, said the fair is aimed to promote Thai-Bhutan relationship, encourage trade especially in the small and medium enterprises and also to help promote tourism. "The event would not only offer a platform to showcase Bhutan, but also provide an opportunity to do business, sell handicraft items and tour packages," she said.
Last year the Bhutan embassy in Bangkok, TCB and Drukair initiated a Bhutan-night in Bangkok with cultural performances and talks to observe Bhutan's National Day. Chhimmy Pem said the success of that event led to the initiation of the Bhutan Fair this year.
The event, if successful, would be made into an annual event. The participants would leave for Bangkok a day or two before the event.