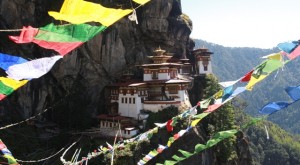 Bhutan Photography Tours .Photographers in Bhutan come across photographic seductions and have abundant opportunities to photograph the Himalayan ice peaks, the virgin forests, the unique plants and flowers, the Dzongs (fortresses), the temples, the chorten (stupas), the prayer wheels and multicolored prayer flags, the farm houses, the yak or horse caravans, the hospitable Bhutanese people in their traditional clothes, and many more. Bhutan with its brilliant colours, compelling architecture, irresistible allure, and unique culture is definitely a place for photographers.
Chaam or sacred masked dances are an integral part of Bhutanese festivals. Energetic dancers, wearing colorful wooden masks and stylized costumes under clear sky are a good opportunity for photographers. The mask dances come in various forms that offer opportunities to capture best scenes from various angles. Besides, one can photograph monks and laymen performing rituals and colorful ceremonial dances, with swirling costumes and elaborate head dresses that may include scarves, hats, gold crowns, and full head masks depicting animals.
A few festivals include late-night rituals in the form of a mewang (fire blessing), where local people jump through a burning archway. Such scenes are uniquely Bhutanese and worth photographing. Festivals are supported and attended by the local people, who come attired in their finest clothing and jewellery. Mingling with the locals in joyous celebration and taking photographs during such moments is a rare opportunity. In general, the Bhutanese people have no objection to be photographed.
Opportunities of photo trip to Bhutan to Bhutan's most visually exciting places include the Tiger's Nest monastery, dramatic landscapes, villages, and the beautiful Bhutanese people. During travel, the photographers often find it irresistible to capture the beautiful landscape.
Bhutan owns wonderful eye-catching architectures. You can see these architectures in almost every building including the gorgeous Dzongs and Monasteries. The ruins present another better scenes for photographing. In few paces, the photographers would definitely love to photograph an exceptional range of beautifully arranged Chortens (Stupas) in a circular fashion.
Visitors are strictly forbidden to photograph in the interior of temples and rooms within the monasteries. Although, the visitors are allowed to photograph in the inner court yards, the Bhutanese government prohibits visitors from taking pictures in the court yards of Thimphu Dzong, where the offices of the King and His Holiness the Je Kempo are located. In such cases, the visitors are advised to inquire before photographing. However, during the important public religious festivals, tourists are allowed to take pictures of the fascinating temple dances performed in the court yards, even in the Thimphu Dzong.