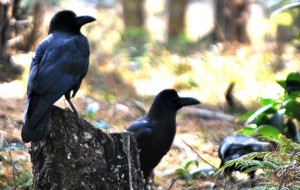 Not long ago, it used to be a common sight to find Bhutan's large-billed crows (Corvus macrohynchos) in urban settlements. With time, the crows have vanished from urban areas and now one can one find them only in far flung villages.  The Bhutanese large-billed crow is jet black and large, much larger than those seen in Thimphu and Paro, where urbanization has caused sharp decline in its population. Crows are believed to be representations of deities.
Those gathered for the ritual, at a home in Chumey, Bumthang, kept observing to see if the crows came to feed on it.  Others kept their ears alert for the birds' cawing.
Soon the crows came and started rummaging and feeding on the tormas.
"The crows have come and it's just the first day," shouted one.  The deities were appeased.
The one that can be seen in Thimphu is the Indian house crow.
"Here, it's said to be Goem Jaro Dongchen," Chumey gup Tandin Phurpa said. "The ritual cakes are offered to them and, if they don't feed on it within three days, it is considered a bad omen," he said, adding it was usually placed on rooftops.
If the rituals cakes are left as they are, then the rituals have to be performed again to appease the deities.
Being an important part of such rituals and other beliefs, gup Tandin Phurba, like others in the community, has, unintentionally, observed the bird.
"Except for stealing meat, which is dried outside, the crow doesn't harm our crops," Tandin Phurba said. "It isn't a nuisance to the community."
Rather, he said, crows are revered, and killing one is sinful. "They make the sound ah, which is a holy letter in Buddhist scripture," he said. "It's said a single crow can recite at least 100 ahs in a day, and therefore killing it is a sin."
The only negativity connected to the crow is that, if the crows caw and circle a house, it is believed to be an ill omen.
While the crow continues to be culturally and traditionally linked to the community, the gup was not aware that it was disappearing in some dzongkhags, especially urban towns like Thimphu and Paro.
"The population of crows here has been constant," he said.
According to Bird Sherub, an ornithologist with Ugyen Wangchuck institute for conservation and environment (UWICE), the presence of large-billed crow in Chumey and others areas in Bumthang was because of the soft grounds, including mud, and presence of cow dung.
"The crows forage for food, like insects and bugs, which they dig from the grounds and dung," he said, adding however, that no in-depth research has been carried out on the large billed crow in the country.
"We've just observed and, in areas like Thimphu, the large billed crow has disappeared with urbanisation," he said.
Over homes, in the trees along the roads, and over the barren fields in Bumthang, the large-billed crow can be seen, in large numbers.
"They're in pairs only while breeding, otherwise they flock," he said. "Usually, like other species, they flock in winter."
This, he said, was to keep an eye out for predators and food, when it is always better to have more eyes.
Bird Sherub also said it is not known whether the numbers are increasing or decreasing in Bumthang, "But usually in winter, those in higher elevation come down," he said.
The large billed crows can be seen from the plains up to an altitude of 4,500m.
The dependence of communities for the crows to feed on the ritual cakes, he said, was good for the environment.
"They're good scavengers, and tormas, which are disposed after rituals, from an environmental perspective, is a waste," he said.
Apart from that, the crows, he said, also scavenged on carcass of animals like dogs, which, unlike cattle, were left to rot by people in communities.
"That's their importance to the ecosystem," he said. "Their presence also provides species diversity."
Apart from the large-billed crow, in the woods and settlements in Bumthang, one can also spot the black-billed magpie, a bird belonging to the crow family.
However, Bumthang is not known for bird species diversity. "The forests here are chirpine and blue pine," he said. "Exotic, endangered and beautiful species of birds are seen in broad leafed forests."