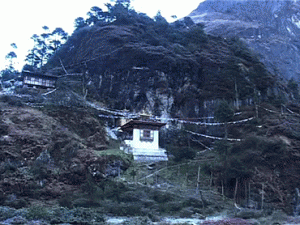 . It takes three days on foot to reach the dzong, which makes it one of the most isolated places in the country.
Singye Dzong in Lhuentse is one of the most sacred and revered sites of Guru Rinpoche in Bhutan. Singye Dzong is yet to be connected by road, and is not open to tourists. The nearest road head is in Khoma village, from where a traveller has to take a three day walk to the dzong.
Construction of road to Singye dzong has not been encouraged in order to preserve its sacredness. However, the local government of Khoma Gewogn has proposed a farm road to be constructed till Tsikgang village. Tsikgang village is a day's walk from Khoma village. Due to a budget ceiling, the proposal has been shot down for now, but the farm road has not been denied. If constructed, it will take only two days on foot to reach Singye Dzong.
A road till Singye Dzong would attract more devotees. The common feeling is that the sacred site will lose its sacredness if it becomes easily accessible.
But, Dzongsar Jamyang Khentse Rinpoche says a sacred site need not always be isolated to be sacred.
"The effect to Singye Dzong is very relative. You know as a Buddhist, the holiest place is in Bodhgaya and it is right in the middle of four roads. That has not harmed the charm, the blessing, and atmosphere of Bodhgaya." Dzongsar Jamyang Khyentse Rinpoche said it would be wonderful if every Bhutanese could visit Singye Dzong at least once in their lives.
Singye Dzong is not open to foreign tourists. Foreigners have to obtain a special permit from the Department of Culture to visit the site. Locals believe they would benefit should the government open the site to tourists.
"I am not completely against it. But tourists must change their attitude, not only here but everywhere. Tourism is one of the worst industries in the world because they have no loyalty to the country they visit." He said tourists really don't care about the environment. "All they care about is wifi, attached bathroom, hot showers, so on and so forth. But you can introduce good tourists who are culturally sympathetic and those who are devoted to the spiritual path."
The Khoma Gup, Sither Tshering, said they have put up a proposal to open Singye Dzong to tourists. "But Lams say that of the five important neys of Guru Rinpoche, only one is in Bhutan and that is Singye Dzong. They say it will be better to keep the tourists out."
Singye Dzong is one of the five most important sacred sites of Guru Rinpoche. It is considered the activity site (Thrinleyney) of Guru Rinpoche. The body (Ku), speech (Sung) mind (Thug), and knowledge (Yonten) sites of Guru Rinpoche are said to be in Tibet.