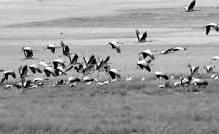 On the night of November this year, Eastern Bhutan welcomed the first three black-necked cranes, a juvenile and two adults landed in Bumdeling valley, Trashiyangtse. The visit was delayed by five days, but will be followed by other flocks until mid-December,according to sanctuary officials.
Although spotted on November 4, the first flock of black-necked cranes, Dungzam park ranger Sangay Drukpa said the birds must have landed by the afternoon of November 3.
"Black-necked cranes usually arrive towards late afternoons, or in the evenings," he said. Given favourable weather conditions, park officials said they were expecting another flock on November 5.
"The cranes normally arrive when there is clear weather," Sangay Drukpa said.
As of yesterday, no new arrivals were spotted.
Sangay Drukpa said they were expecting bigger flocks to land in.
The cranes, he said arrived in flocks of two to nine together and occasionally they came in flocks of 15.
"The birds, depending on whether conditions will continue to arrive like so until mid-December," he said.
Bumdeling Wildlife Sanctuary forest ranger Sonam Choidup said the birds flew in a little late this year.
"The whether has been gloomy since October 28 because of which their arrivals were delayed," he said. "Under pleasant whether conditions, the first flock normally lands by October 31."
Sanctuary officials said the cranes normally took a day to reach Bumdeling from cold plateaus of Tibet up north.
"They might also be making stops on the way if whether conditions are bad," Sonam Choidup said.The first flock was feeding on leftover grains strewn on the paddy fields of Dowaling.
However, villagers said they were expecting more black-necked cranes to arrive on November 10.
"It's a duezang (auspicious day) on Novemnet 10 and some of these special birds, I have observed, fly in on such days," a village elder said.
On an average, Bumdeling sanctuary officials hve recorded more than 100 black-necked cranes annually.
In 2012, 105 black-necked cranes arrived to its winter feeding and rooting grounds of Bumdeling