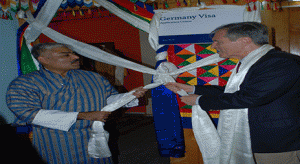 For the Bhutanese people travelling outside Bhutan wasn't easy to get the visa to western world. Either one has to travel to India to apply for the visa which involve high expenditure. So to make it easier for the people of Bhutan a German visa application office was inaugurated today in the capital Thimphu, Bhutan.
The initiative aims to offer new services, facilities and benefits to visa applicants, and to boost tourism, trade and investment, and also to enhance bilateral relation between the two countries.
The Visa Application Center will accept visa applications for Germany from only Bhutanese applicants.
"Now, I have always found an awkward situation that if a person from Bhutan wants to go Germany, they have to first go to Delhi to apply for visa," said the Ambassador of Germany to India, Michael Steiner. He said there is a lot of cost incurred while doing so. The center, he said, will ease the problem.
The Center will be operational from December, this year.