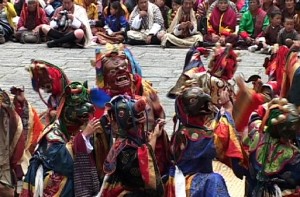 Drupchen dedicated to the local deity of Bhutan,Pelden Lhamo was witness by more than Thousands of people dressed in their best cloths at the courtyard of Trashichozong.
According to the Zhung Dratshang, Lhamoi Drubchen is one of the sacred rituals and festivals in the country. It is dedicated to Pelden Lhamo, the protecting deity of Bhutan.
Two varieties of mask dances, Magcham and Lham-Tshom-Kunchum, were performed today.
"I learned that Dromchoe is very sacred. In 1616, Zhabdrung accompanied by his disciples came to Bhutan and in Dromchoe, these disciples have performed the mask dances," said Zechu Tshering, one of the witnesses.
"When Zhabdrung came to Bhutan, all the kunchams were instituted and today we can see this cham here," said another witness, Lobzang.
Lhamoi Drubchen was instituted between 1705 and 1709 by Je Kinga Gyeltshen, the first re-incarnation of Jampel Dorji, the son of Zhabdrung Ngawang Namgyal. Legend has it that Pelden Lhamo appeared before Je Kinga Gyeltshen while he was meditating and performed the dance.
The Drubchen will end tomorrow and the three-day annual ThimphuTshechu will begin this weekend.