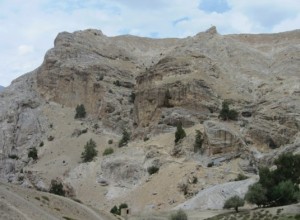 Second Buddha or guru rimpoche is widely know as great tantric guru in Mahayana sects. He meditated and blessed much Buddhist country like Tibet, Bhutan Nepal and of course India his birth place.The sacred places like Taksang or tiger nest here in Bhutan and India, Ugyen dzong ney is considered to be one of the difficult sacred place to reach.
If Taktsang in Bhutan appears inaccessible, this nye is even more so, requiring a three-stage entry
Ugyen Dzong: En–route to Kargil district, in the Indian state of Jammu and Kashmir, is a huge sheer rock face in the midst of a dusty arid landscape.
This is the Ugyen Dzong nye (sacred place), which holds a cave where Guru Rinpoche is believed to have meditated for a month in the 8th century.
Depicting his spinal code and vertebra, the cave, which can comfortably fit in two people in meditation posture, has the body print (kuje) of the tantric saint.
The retreat cave is on top of a rugged cliff that is the height of a six-storied building.
It is a three-stage entry to reach the main cave.
The first entry point requires scaling a five-metre natural vertical wall that pilgrims overcome with assistance from others.
The second stage passes through what is believed to be a self-arisen chorten imprinted on the rock face.  A monk Sonam Rigzen, who completed a three-year retreat nearby the cave, said passing the self-arisen chorten is like being on the way to nirvana.
The third stage is the most difficult entry, as it requires scaling about 30m of the rock face, which is not only smooth, but also does not have crags to hold on to for support.
After this stage the retreat cave is connected through a natural underground tunnel, barely enough for a person to crawl through.
This dark and slippery snake-like tunnel runs for around 100m inside the rock face and emerges at the retreat cave.
It is believed that, on auspicious days like the 10th, 15th and 30th day of the month, the retreat cave sends out blessings in the form of water.
Returning from the cave through the three stage entry is another difficult act that is usually accomplished by pilgrims helping each other.
Pilgrim Jigmet Yangdol nearly broke into tears when she was stuck on the cliff on her way down.  Monk Sonam RIgzen, who helped a line of pilgrims to cross the cliff, lent a helping hand.
A few women cried when they were climbing down the cliff, as their feet struggled to find a stable position.
Monk Sonam Rigzen said, despite the risk involved to get to the retreat cave, so far, there have not been untoward incidents.
In front of the main cave is self-arisen mantra of Avalokiteshvara imprinted on the rock, and above it is an appearance of a series of swastikas representing a door for treasures that Guru Rinpoche had hidden.
Sonam Rigzen said mountains behind the retreat cave also replicate yidam kiliya, union of Chakrasamvara, Avalokiteshvera, dakini's playground and Potala palace of Tibet.
Located 35km away from Kargil, Ugyen dzong is a seven-hour drive from Leh, capital of Ladakh. From the road head, it takes more than an hour to the dzong through steep gorges and a clear rapid stream.