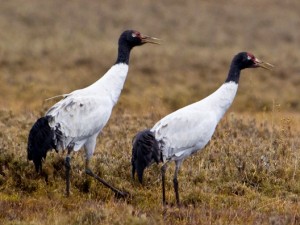 Six black-necked cranes were spotted at a non-touristic site of Tshokona, by a local resident yesterday morning.
"After hearing the sound made by the birds, I was informed by my niece at around 6:30 am that the birds have landed". The birds were last spotted about 15-20 years ago.
At around 7am, forestry officials at Tshokona went to watch the cranes, on hearing their sound. "When we went down, they were already flying away," forestry officials said.
The birds flew towards Bajo, and landed in the paddy fields of Lhamiluma after turning from Bajo. "We followed the birds, and found them feeding on grains in the harvested paddy fields," said a forestry official.
At about 11:30am, the last bird flew from Lhamiluma crossing Wangdue bridge.
Nado said they used to spot at least 20 birds together, singing and dancing in and around the river in Tshokona around this time.  Black-necked cranes, according to Nado, were known as "Lhabja," back then. "It isn't just a bird but a sign of good luck coming into the community," he said.
A Lhamiluma villager said the paddy fields between Tshokona and Lhamiluma used to be a feeding ground for the birds. "They probably stopped coming because their habitat is disturbed," she said. "There's a lot of activity after the Tshokona sand quarry was opened," she said.
Another resident said the birds used to flock between Tshokona and the present day Bajothang township area. "They've lost their feeding grounds to urbanisation," he said. "We have trucks rumbling down to the river side as early as 5am and the road passes through the paddy fields."