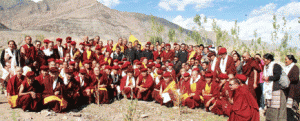 The 2013  drukpa council  begin yesterday in ladhak.More than 40 monks from the Central Monastic Body and Bhutanese officials are attending the Annual Drukpa Council in Ladakh, India. The week-long Drukpa Council began yesterday. It is being held at Hemis Goenpa, one of the oldest monasteries in Ladakh.
The Annual Drukpa Council is founded by His Holiness, the 12th Gyalwang Drukpa Rinpoche, and spiritual head of Dukpa Kagyud lineage.
During the convention, the Drukpa Kagyud Masters and Yogis, will discuss and exchange teachings on Buddhism.