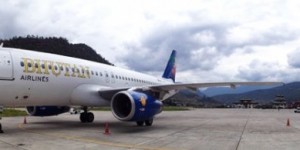 Till now here in Bhutan the DrukAir is the only airline flying in and out of the country. Now the Bhutan Air will be new competitor of the drukair and will resume the first inaugural flight from Bhutan to Thailand today.
Tashi Air subsidiary, Bhutan Airlines, will fly its inaugural international flight for guests between Paro and Bangkok today.  This will mark the first time the national airline Drukair will be facing a competitor on its lucrative Paro-Bangkok sector.  The Paro-Bangkok sector was established by Drukair in 1989.
Following today's inaugural flight, Tashi Air will commence daily commercial flights between Paro and Bangkok from tomorrow.  Drukair already conducts daily flights on this route.
Tashi Air published airfares for Bhutanese travelling are slightly cheaper than Drukair's at Nu 11,000 (one way) and Nu 21,000 (round trip).  Current Drukair airfares are Nu 13,425 (one way) and Nu 25,443 (round trip).
However, the Tashi Air commercial director, Ugyen Tenzin, said that even lower promotional fares are currently available.
According to information published on a Tashi Air brochure, excursion fares up to 15 percent can be availed.  Higher discounts are also available for students, children, and infants.
A total of 70 guests will be onboard today's inaugural flight to Bangkok.  The maximum number of passengers permitted is 70 for take offs from Paro airport, given that Tashi Air's Airbus A320 is slightly larger than the A319s used by Drukair.
Tashi Air flights will require a stopover at Kolkata airport, however, only for refueling currently, according to Ugyen Tenzin.  He said that clearance is expected towards the end of this month for commercial stopovers.
Tashi Air's A320 will also be based in Bangkok, as its engineering station will be located there for the near future.
According to a tentative flight schedule released, the arrival time at Paro airport is 9:45am and departure to Bangkok is 10:35am daily.
This will not be the first time Drukair is facing competition on an international route. In 2011, private Nepalese airline, Buddha Air also operated scheduled flights on the Paro-Kathmandu route for seven months before having to bow out due to low demand and mounting financial losses in excess of USD 100,000.
Source: kuensel.