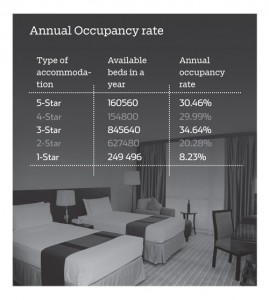 As per the recent survey made by Bhutan Tourism. Hotels in western Bhutan has maximum bed per night occupancy compared to the major tourist hotspots.
Punakha, followed by Wangduephodrang and Haa, saw the highest occupancy last year compared to the main tourism hotspots, according to the recently launched Bhutan tourism monitor.
The main tourism hotspots of Thimphu, Paro and Bumthang registered lower occupancy rates from an oversupply of beds compared to lesser-visited areas, which have fewer hotels, the monitor states.
The five hotels in Punakha, categorised from one to five stars, saw occupancy of 46 percent, followed by Wangduephodrang and Haa at about 19 percent.  There are two one-star hotels in Haa, and five hotels between one to five stars in Wangduephodrang.
The five hotels in Punakha, tourism council officials said, had a total of 149 rooms with 294 beds per night, which amounts to 105,840 bed nights in a year
The two hotels in Haa had a total of 28 rooms with 56 beds, which amounts to 20,160 bed nights a year.  Hotels in Wangduephodrang had a total of 138 rooms with 271 beds, which amounts to 97,560 bed nights a year.
"Occupancy rate determines the performance of a hotel just like the average length of stay does for a destination," the monitor stated. "Occupancy rates could be higher, as it doesn't include regional, domestic, business, corporate, and walk-in guests."
The hotel occupancy analysis, tourism council officials said, focused on the month of October, the busiest month of the fall tourist season.
The total beds of 446 a day in the five-star category hotels throughout the country works out to 13,380 beds in a month. "In October, this category recorded occupancy of about 50 percent, and an annual occupancy of about 30 percent," tourism council officials said.In the four star category hotels, there are 430 beds with 12,900 beds per month, followed by three star hotels with 2,349 beds with 70,470 beds per month, two star hotels with 52,290 beds, and 14,880 beds per month in the one star category.
"Three star category hotels in the country recorded the highest annual occupancy rate with about 35 percent," tourism monitor report stated.
The council suggests investment in accommodation to be focused in dzongkhags, where there are few or no international standard hotels.  Zhemgang, Gasa, Tsirang, Sarpang, Samtse, Lhuentse, Pemagatshel, Tashiyangtse, and Dagana dzongkhags do not have registered hotels, and hence are affected by a lack of accommodation providers, TCB records show.
Tour operators said there were enough hotels to cater to tourists in the country, but were not equally distributed across the regions.
As of last year, there were 123 TCB-accredited hotels and resorts with a capacity of 2,749 rooms, which amounts to 5,464 beds every night and 163,290 beds available in a month.
"If all beds were occupied in all the 123 registered accommodation providers every night, the current beds supply would be able to cater to 6.48 times more than that of the overall annual occupancy of international visitors last year," according to the TCB analysis.
Meanwhile, Paro has the highest number of tourist hotels, resorts and guesthouses at 37, followed by Thimphu with 27, and 23 in Bumthang.